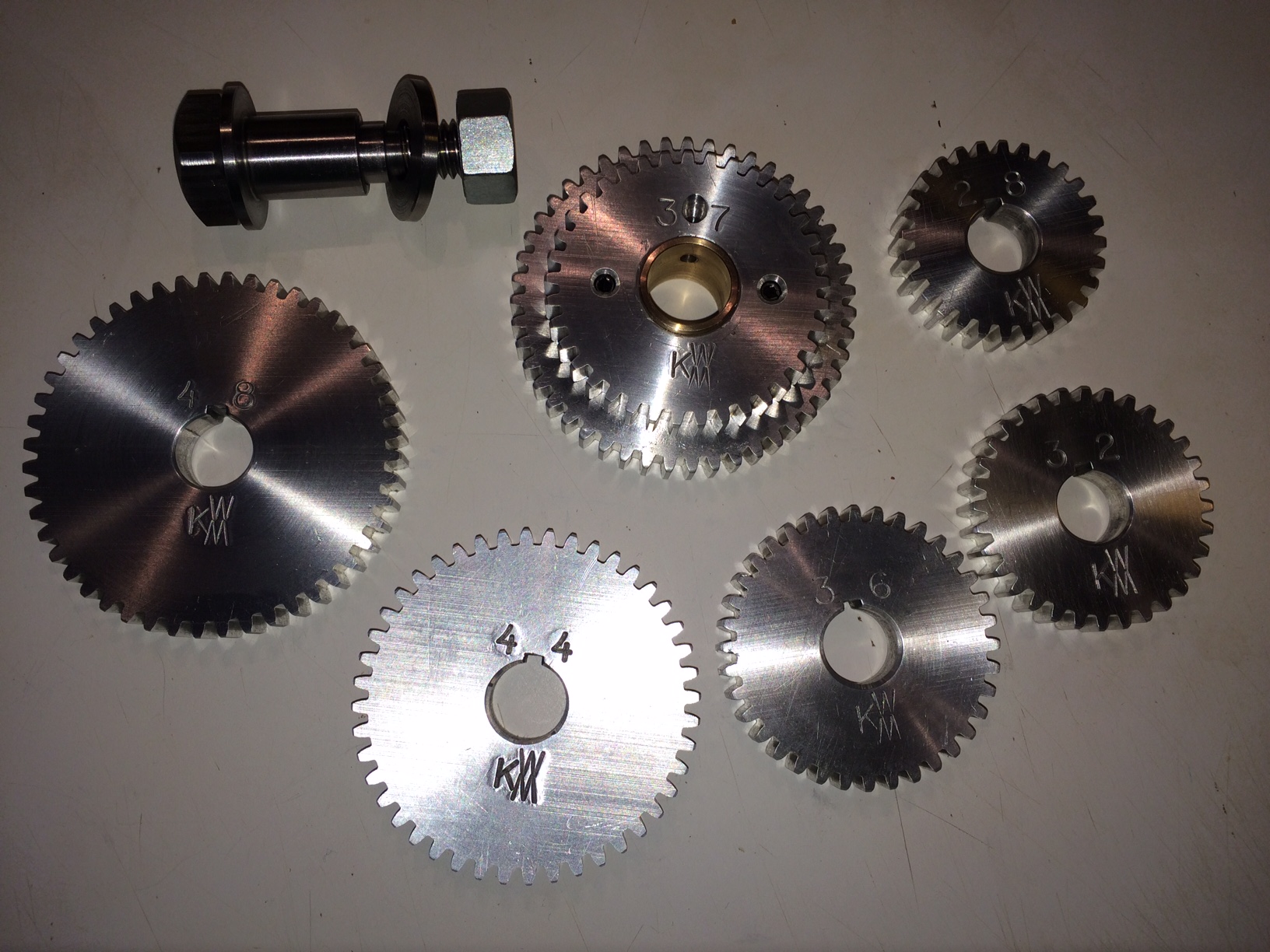 For Sale
New Metric Transposing Gear Set (Metric Change Gears) for Cutting Metric Threads on South Bend 9A or 10K Lathe
$399.98 USD which includes free shipping within the USA

This is a newly machined 47/37 transposing gear set which converts your 8 TPI lead screw to a 2.5 mm pitch. The thread's crest-to-crest or lead error is only 0.02% or about 0.0025 inch for a one-foot long threaded rod. The transposing gears are under 3 inches in diameter leaving lots of room for closing the gear cover. You can find lots of good information about the 47/37 transposing gears on the internet. I encourage you to google it.
I made these for the south bend 9 model A lathe with quick change gear box. The transposing gear will work with other south bend 9 models also, but this set up is for the 9a. The gears have a diametrical pitch of 18. They are made from 6061 aluminium. It includes the bolt and bushing for the transposing gear. With the included gears and the 56 tooth screw gear, and the 20, and 40 tooth gears that should already be on your south bend 9a, you can cut all the ISO pitches of .20, .25, .30, .40, .45, .50, .60, .70, .75, .80, 1.00, 1.25, 1.50, 1.75, 2.00, 2.50, 3.00, 3.50, 4.00, 4.50, 5.00, 5.50, 6.00, along with other non standard pitches by changing the stud gear and setting the quick change gear box to the correct setting. I will include a spread sheet showing the settings for the stud gear and gear box, which can also be found on the internet at bnordgren.org/files/metchart2.xls.
If you have questions email me at kane@monroelawncare.com and I'll answer them to the best of my ability. If you need a photo of the actual setup on the lathe I can furnish those also.

More Pictures
I accept paypal, moneygrams and money orders as forms of payment.
Below are links to Adam Booth's machining channel Abomb79 on youtube, showing the gears I donated to his show for a giveaway.